Yuto!
April 28th, 2011 | by: Aidan |

Comments Off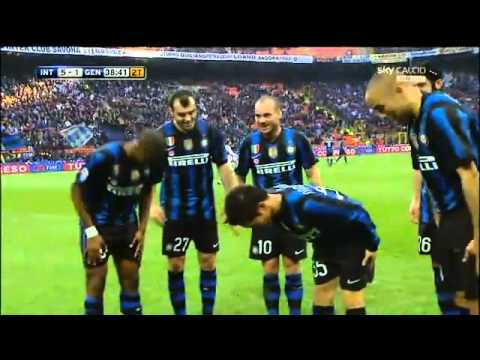 Some nice quotes from Yuto Nagatomo this week about life at Inter Milan, and how he feels he's progressing at one of the biggest clubs around.
He's been in and out of the team at times fighting for a place, but has not looked out of place when he has been playing and is on a run of appearances in the last couple of weeks.

As for Inter, they stuttered a bit recently culminating in the humiliating defeats to Schalke in the Champions League and a tonking from Milan in Serie A meaning that they won't be adding any silverware this spring, but they still sit second in the league and for Nagatomo it is a big step up from being at Cesena earlier in the season, the club which he is still contracted to of course.
His raiding runs down the left are a good source of opportunities for Inter, and his seemingly endless energy makes him a bit of a fans favourite which is great to see.
"I always feel more inserted into the group, as if I have got over a mental block. Then when you hear the fans when I have the ball it gives me even more of a boost."
Cesena will be Inter's opponents this weekend and unlike in England where you can't face your parent club it seems he is allowed to do so in Italy (at least I think he is) and will naturally want to impress.
"Now we have to focus on Cesena. It's a very special game for me. I want to show my progress to my former team and fans. But, of course, I don't want to lose."
And of course, he wants Inter to take him permanently in the summer. I hope he gets that move as it's great to see a Japanese player flourishing on such a big stage, and can only help the cause of the national team by the experience gained.
Nagatomo wouldn't have been my first pick as the most likely Japanese player to have reached such a club level at the moment, the likes of Honda would have been a more obvious choice. Even Kagawa at Dortmund, though top of the Bundesliga by some distance, isn't at a club of the same stature as Inter.
And Uchida at Schalke may have reached the semi-finals in the biggest club competition at the expense of Nagatomo and Inter, but Schalke are distinctly average in Germany despite their European exploits.
The fear for Nagatomo would have been that he might not see enough game time at Inter, and at times he has indeed been left out, but the biggest praise like I said earlier is that when in the team he has not looked out of place.
Just for kicks, here's Nagatomo's goal again from last month for Inter against Genoa…enjoy!
Subscribe

Japan World Cup Team Blog RSS Feed

Share
Comments are closed