Yawn…Kirin Cup ends goalless
June 9th, 2011 | by: Aidan |

Comments Off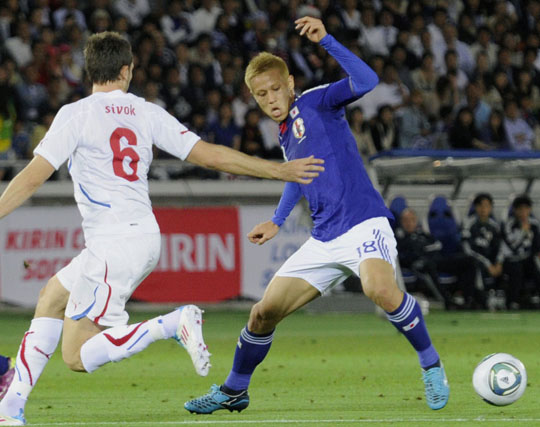 After Japan's 0-0 with Peru in the opening match, the Czech Republic also drew a blank against Peru. So it was to the final match of the mini tournament and winner takes all.
Except there was no winner. No winner and no goals. Again.
It must be something of a record for a tournament to feature no goals whatsoever and the Kirin Cup is therefore shared between all three.
From Japan's point of view these two matches have allowed Alberto Zaccheroni's 3-4-3 formation to get a bit of a try out ahead of the World Cup qualifiers beginning next autumn.
Perhaps it's just taking time to bed in, but it would be a shame if Japan lost their usual attacking verve in favour of more solidity due to this formation change. However, with World Cup action unlikely to be too taxing at first there is plenty of time for the squad to develop in this style.
Big Zac had this to say after the match…
"Of course we wanted to win tonight, but we haven't had so much time to work together and to implement the new system, so I'm satisfied with what I saw. Some of the players weren't in great physical condition after coming back from Europe, so considering everything we did well. We've got the World Cup qualifiers starting soon, and I'm hoping we can go on and build on this."
Japan fielded a strong side and improved after a shaky start, having some joy down the flanks in particular, but came up against a top class keeper in Petr Cech who kept them out. At the back things were a little more jittery with several players struggling against the size and strength of their opponents. A perennial Japanese problem.
But that's it for this season for Japan's national team now that the Copa America has bitten the dust. September will see the umpteenth meeting with South Korea ahead of the World Cup qualifying beginning after that.
2010-11 began for Japan in difficult circumstances, with no boss, and seemingly no idea how or where to get one. But once Zaccheroni was appointed Japan's fortunes have been going along very nicely indeed.
Having beaten Argentina in his first match, Zac is still unbeaten as Japan boss including of course winning the Asian Cup at the start of the year. Of course Japan remain Unofficial World Champions too…quite a year despite the slightly underwhelming finish witnessed in the Kirin Cup.
Subscribe

Japan World Cup Team Blog RSS Feed

Share
Comments are closed