The new big man's first press conference
September 1st, 2010 | by: Aidan |

View Comments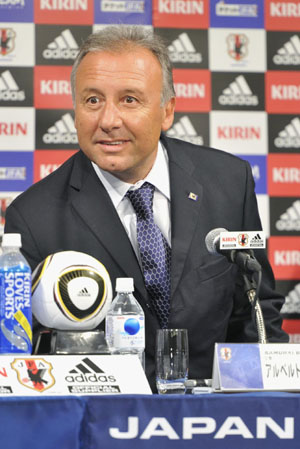 Some interesting quotes from Signor Zaccheroni on his unveiling by the JFA…
"The games we have coming up against Paraguay and Guatemala are very important and we need to start thinking about the Asian Cup straight away. Of course there is not much time, so as of yesterday the preparation has begun. It's not just the games that are important, but watching the team training and speaking to the players as well.

"We have to aim for the top three at the Asian Cup. Japan is a country that can hold its own on the world stage, so we have to show that in Asia as well."
Great to hear that he's putting such emphasis on the Asian Cup right away. I know that it's not a big tournament by world standards, but as he says it's vital that Japan continues to show itself at or near the top of the Asian game, particularly after the World Cup performance.
"First of all you need to have good, open communication in the team. I'm not the type of manager who tells the players to shut up and listen. That's not my style. It's important to talk things through as you go along, and in this way you can create a good spirit in the team.

"Of course skill and technique are very important, but I'm not worried about the physical level of the players. The mentality and communication are the most important things."
This may be a boost to some of the Euro players who will be well used to voicing their opinions to the management.
"I have worked with clubs for the last 25 years and I have won Serie A, which I think is the hardest league to manage in. I worked for a long time in Italy and I wanted to broaden my experiences by taking charge of a national team. I believe that the Japan team has a lot of potential and it has come a long way in a short space of time.

"This is something that I really wanted to do, and something that I thrive on. Recently a lot of Italian managers have gone abroad, and it is a real challenge for me to become the first Italian to take charge of the Japan national team."
"The team, rather than individuals, left a big impression on me. It is a very compact team and everyone works hard for each other. I have to thank Okada for doing such a good job and laying the backbone of the side.

"I like my teams to have balance. You need both an attacking base and a defensive base. If you don't play well, you don't get results. If you play well sometimes you don't get results, but generally you do."
Encouraging stuff I think.
He'll be watching from the stands for the couple of games coming up, but I would imagine he'll have a bit of a say on tactics and formations but it will also give him a good opportunity to meet the players and see them in training and in a match.
But I'm looking forward to the Argentina match in October, but possibly more so the South Korea match which should give a better indication of where Japan is heading in Asian terms ahead of January's Asian party.
Subscribe

Japan World Cup Team Blog RSS Feed

Share
blog comments powered by Disqus