Shinji Kagawa – Deutscher Meister!
May 4th, 2011 | by: Aidan |

Comments Off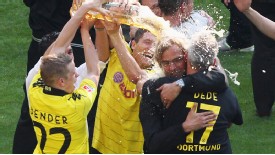 Shinji Kagawa may not have played since January but he can celebrate becoming a champion of Germany this weekend after Borussia Dortmund sealed what has appeared an inevitability for some time to win the Bundesliga.
The deal was sealed thanks to a 2-0 win over Nuremburg, giving them an 8 point lead with 2 games to go. A warm round of applause to Kagawa and co if you please…
He now joins Yasuhiko Okudera (Koln – 1978), and Makoto Hasebe and Yoshito Okubo (Wolfsburg – 2009) as German Champions.
Let's not forget the impact Kagawa has had for Dortmund this season as part of a dynamic attacking midfield, primarily terrorising defences from Dortmund's left. He scored 8 goals in his 17 Bundesliga appearances, not to mention a couple more in the Europa League too.
His selection for the Asian Cup squad and subsequent injury in that tournament ended his season with Dortmund but he played a major role in Dortmund's charge to the top of the league before the winter break.
Kagawa had this to say…
"I feel joy from the bottom of my heart. I threw away the second half of the season with this injury, but I feel honored that I was able to be involved in winning the title in my first year after coming to the Dortmund team. Now we have a chance to appear in the European Champions League next season, so I am really overjoyed. There are only a few matches remaining, but I'd like to try my best to get on the pitch again."
Elsewhere there was a vital 3 points for Wolfsburg who are still fighting for their lives against relegation, currently sitting just 1 point above the relegation playoff spot, and 3 above automatic relegation.
Werder Bremen 0-1 Wolfsburg – Makoto Hasebe joined in from the bench mid way through the second half.
Koln 2-0 Bayer Leverkusen – Tomoaki Makino was an unused sub.
Borussia Dortmund 2-0 Nuremburg
Hamburg 0-2 Freiburg – Kisho Yano was an unused sub.
Hoffenheim 1-2 Stuttgart – Shinji Okazaki started but had left the field before Stuttgart's two goals.
Bayern Munich 4-1 Schalke – A bad week got worse for Atsuto Uchida and Schalke.
Bundesliga 2
Energie Cottbus 1-1 Augsburg – Takahito Soma and Hajime Hosogai both started on the bench for their respective teams, but only Soma saw some action. Augsburg are within touching distance of promotion.
Italy
Cesena 1-2 Inter – Yuto Nagatomo faced his parent club and nearly lost, Inter scoring twice in stoppage time to win.
Catania 2-0 Cagliari – Takayuki Morimoto stayed on the bench in this win which lifts Catania a bit clearer of danger but not safe yet.
Holland
PSV Eindhoven 2-1 Vitesse Arnhem – Michihiro Yasuda was in the Arnhem defence that doesn't have much to play for in the closing weeks.
VVV Venlo 3-2 Feyenoord – Maya Yoshida and Robert Cullen played their part in a terrific win for Venlo against a Feyenoord team playing without Ryo Miyaichi. When he palys he helps them win, when he doesn't they lose to a poor side like Venlo – a clear lesson there!
This win means that Venlo can't finish last, and so can't be automatically relegated. They have no escape from the relegation playoffs however, as they are too far adrift of guaranteed safety.
Spain
Racing Santander 2-0 Real Mallorca – Akihiro Ienaga started but didn't finish this one.
France Ligue 2
Tours 2-2 Grenoble – a point for Daisuke Matsui and his colleagues merely delays the almost inevitable second relegation in two seasons for bottom placed Grenoble.
Russia
CSKA Moscow 0-1 Spartak Moscow – a return to the team for Keisuke Honda in a Moscow derby match, but CSKA lost out to Spartak.
England Championship
Doncaster Rovers 1-1 Leicester City – Mid table result for mid table guaranteed Leicester and Yuki Abe.
Subscribe

Japan World Cup Team Blog RSS Feed

Share
Comments are closed