Morimoto on his way
May 11th, 2011 | by: Aidan |

Comments Off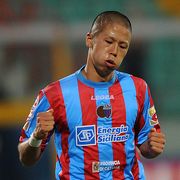 It's not all that surprising given how limited his opportunities have been this year, but Takayuki Morimoto has reiterated his desire and intention to leave Catania in the summer and seek pastures new.
"There's no way I'm changing my mind. I think there are a lot of possibilities, but the important thing for me is to be playing. I feel like I'm in great condition."
He's a young player and still nedds to develop, and so being sat on the bench or not even making it that far must be particularly frustrating. A move elsewhere is in the interests of all I feel, so hopefully it will happen.
As for where he will go, we can only speculate but so long as it is a club where he can get some regular games then I doubt he'll be too bothered.
One place he will be playing later in the year is in the Copa America after Catania agreed to allow him to join Japan's squad for the July tournament. Japan have to include at least 15 overseas based players in the squad to satisfy the J-League and Morimoto looks certain to be on that list.
Subscribe

Japan World Cup Team Blog RSS Feed

Share
Comments are closed