Japan v. Netherlands preview
June 17th, 2010 | by: Aidan |

View Comments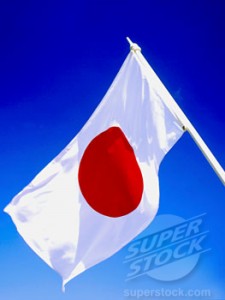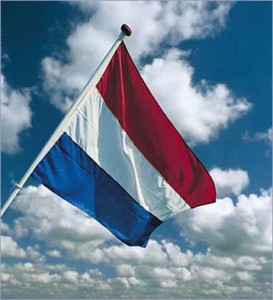 After the narrow win over Cameroon, we go into the next match joint on three points with the Dutch at the top of the table, trailing on goal difference. Japan have got off to a great start but the level of opposition goes up several notches now.
Naturally this is going to be a tougher match than the Cameroon one, but there are two ways of looking at it. Firstly, this could turn into a humiliating mauling if Japan revert back to their previous spinelessness, or secondly Japan could dig in defensively as against Cameroon and hope to frustrate the Dutch and play on the break.
Yet another way to think coming into this one is that if Holland win all three matches in this group, then all that really matters here is not suffering a hammering. Should the Dutch win all three then the race for second place simply becomes a three team mini-league (albeit including the goal difference from the Holland matches) and Japan are already off to a good start in that one. But I don't want to get ahead of ourselves – after all Denmark will be a very tough proposition.
I would expect Japan to line up in a similar way to the Cameroon match, probably with Honda up on his own again, and play quite defensively. This may have contained a poor Cameroon team, but containing the Dutch is quite another matter, so the have their work well and truly cut out.
But let's face it – all along we have expected precisely nothing from the Holland match, anything else would be a huge bonus.
I expect the Japanese line-up to be the same as the previous match, but for the Dutch there is a chance that Arjen Robben could be back from injury which would be a tough prospect for Japan. But the coach Bery van Marwijk was yesterday suggesting that Robben would miss out.
In Holland's opener I wasn't overly impressed with the other big names Wesley Sneijder and Robin van Persie, but they will undoubtedly grow into the tournament and have more than enough to pull Japan's defence all over the place. Eljero Elia did look dangerous when he came on however.
But no matter who plays for the Dutch, Japan will have their work cut out and will need to execute the stifling game plan to perfection and not let concentration drop throughout if anything is to be achieved. Even then, the Dutch are more than capable of the kind of brilliance that would tear better teams than Japan apart, so there will need to be an element of luck too.
As against Cameroon, if Japan do manage to create chances (or have a chance presented by shoddy defending) then it needs to be taken. The Dutch are great in attack but are they as strong defensively? Perhaps not, but chances for Japan will be at a premium and can't be wasted.
Previous meetings?
We've only met once, and that was a mere 9 months ago in Enschede where Japan were taken apart 3-0 in a match notable for free-kick related arguments between Shunsuke Nakamura and Keisuke Honda. Seniority won out that day, but that problem is unlikely to occur again since Nakamura will most probably start from the bench again.
For the historians amongst us, there is quite a history between the Dutch and the Japanese, described often as "400 years of cultural exchange". Another way of putting it would be to say that for that length of time the Dutch were the only foreigners allowed to trade with Japan.
They set up a trading post in Nagasaki Bay on Dejima and traded from there. One side effect from this today is that a Dutch influence in that area has led to the Huis Ten Bosch theme park complete with people running around in clogs carrying milk and cheese on their shoulders. Strange but true.
Another interesting anecdote to this match is that it is an Unofficial Football World Championship title match. "What's that all about?" I hear you ask. Well, let me explain…
Some folks with a lot of time on their hands have worked out a football equivalent of a boxing world title, whereby the holder retains their title until beaten, when the title moves on to the victor. They have worked this out from the very first international match, a 0-0 between England and Scotland, and worked from there.
Naturally England and Scotland both feature a lot in the early years, but the current title holders are the Netherlands who took the title from Sweden in November 2008. So when Japan faced the Dutch last year that was also a title match, and so will this clash be. Japan have never won this title apparently…perhaps now is the time!
What we might not be seeing on Saturday are the Dutch fans arrested for wearing orange mini-skirts bearing the name of some beer company that isn't Budweiser. Clearly this is a heinous crime, and in the land of FIFA counts as ambush marketing since Budweiser is of course the official beer!
This has also resulted in UK television pundit, and former Reggae Boy from the 1998 World Cup, Robbie Earle losing his job since he seems to have provided these lovely ladies with their tickets…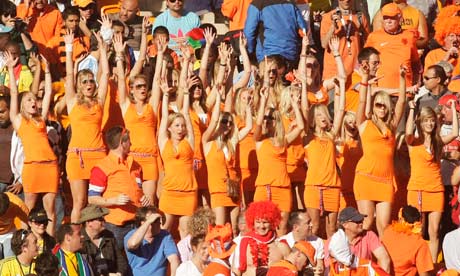 Strange but true. As for the Japanese fans, will we be seeing these white blobs again?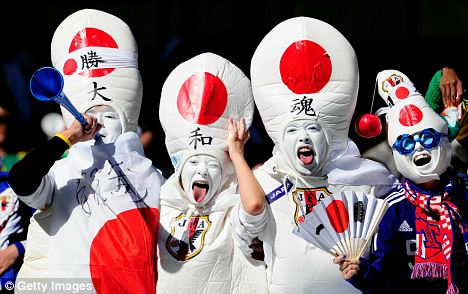 Never let it be said I don't deal with the real pertinent issues of the World Cup!
Subscribe

Japan World Cup Team Blog RSS Feed

Share
blog comments powered by Disqus