J-League Game of the Week
March 8th, 2011 | by: Aidan |

Comments Off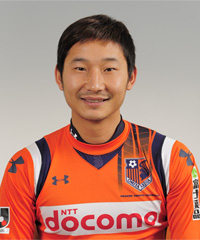 The benefits of being the one writing the blog is that I can decide what to write about, and what game was the most interesting.
So I can conveniently ignore Shimizu S-Pulse's defeat by newly promoted Kashiwa Reysol, and give a passing mention to Nagoya Grampus snatching a late draw with Yokohama F. Marinos, utterly ignore the Osaka derby, and arbitrarily declare that the game of the week in the J-League was the 3-3 draw between Kashima Antlers and Omiya Ardija.
Ok so this is based mainly on there being more goals, and a dramatic late equaliser for Kashima by that perennial scorer Own Goal.
Perhaps Kashima were suffering from this being their third match of the season already, including a trip to China, but whatever the reason the visitors Omiya Ardija took the lead three times, but were pegged back three times.
Korean Lee Chun-Soo (above) gave Omiya an early lead which was held until half-time. It was a lead that was probably deserved as Kashima failed to settle too well and allowed Omiya the time and space to build their attacks.
A half-time rollocking may have been the case for Kashima who came out unchanged in terms of personnel but notably better in terms of performance, Shinzo Koroki going close straight after the restart.
Masahiko Inoha scored from the resulting corner and 1-1 it was. For a minute or so anyway… That's all it took for Omiya to regain the lead after a slightly dubiosuly awarded free-kick was thumped home by Kota Ueda.
The scoring glut continued with Daiki Iwamasa heading another Kashima equaliser, before the Antlers were annoyed not to be given a PK after Koroki was fouled.
Kashima managed to stay level for a whole 5 minutes this time, before Lee Chun-Soo did the business again with a lovely finish. Kashima lost their way a bit in front of goal at this point I think (if conceding 3 times at home to Omiya hadn't already meant they'd lost their way), with chances being wasted.
Yasushi Endo came off the bench to fire some life into the Antlers play, and a final push in stoppage time aided by a nice pass for Mitsuo Ogasawara caused a bit of panic at the back resulting in the aforementioned Own Goal getting on the scoresheet to level things up at 3-3.
Were Kashima just tired out already when facing a fresh opponent, or are they not as good as in recent years?
Too early to make any rash judgements but what is clear is that Omiya have a decent squad this time around and while they are unlikely to challenge they will be nobody's pushovers – except when wanting to flop to the ground and waste a bit of tiome that is…they were easy pushovers at times in that sense…
As I briefly alluded to at the top, there was a very good return to top flight action for Kashiwa Reysol beating Shimizu 3-0, and Gamba Osaka won the Osaka derby match 2-1 over Cerezo for an exciting start to the J-League season.
Subscribe

Japan World Cup Team Blog RSS Feed

Share
Comments are closed