Champions of Asia!! Japan 1 Australia 0
January 29th, 2011 | by: Aidan |

Comments Off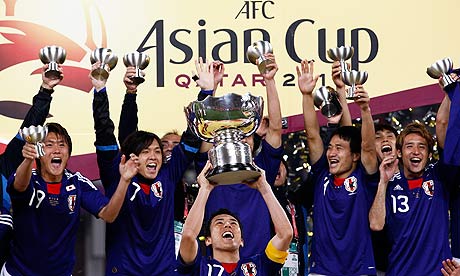 The Blue Samurai are Champions of Asia for a record 4th time, beting Australia 1-0 after extra-time in today's Final.
It's fair to say it wasn't a classic by any means, and Australia had some great chances of their own to win it, Eiji Kawashima earning man of the match plaudits for keeping them out on several occasions, but it was a goal in the second half of extra-time from the unlikely source of Tadanari Lee which won it for Japan.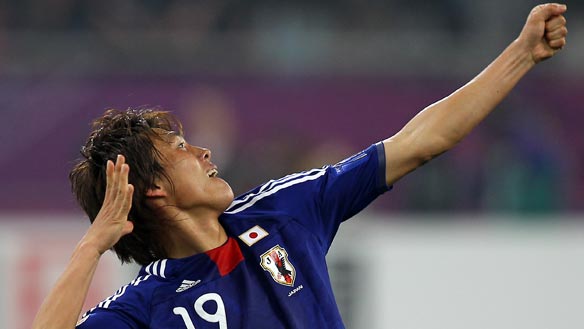 It all began quite well for Australia, who had the majority of the play in the first half, as Japan struggled to get going and seemed rather lethargic. A side effect from a long and dramatic semi-final perhaps? Bearing in mind the easy ride Australia had against Uzbekistan while Japan went all the way against Korea that is a possibility, but Australia certainly stifled Japan in the first half and we needed to step it up.
In particular Australia were threatening with crosses into the box, and each time they seemed to cause panic at the back. A lack of height with Yasuyuki Konno may have been a factor there, and things did settle down somewhat once Daiki Iwamasa came on later in the match to add abit of height.
He replaced Jungo Fujimoto who was fairly anonymous in his hour or so on the pitch, having got the nod to replace the injured Shinji Kagawa. He seemed reluctant to take his man on and get by him, always prefering to cut the ball back and slow the attack. Japan's play needs to be faster and in the first half it wasn't up to speed.
The other change in starting lineup had been the return of Maya Yoshida at the back at Iwamasa's expense. Yoshida cleared off the line at one point, and looked better than his partner at dealing with the arial threat at times.
Japan again were playing too narrow, a failing through much of this tournament. It is extremely difficult to play through the middle of a crowded backline yet we try to do it again and again. On occasion we did get through, but not cleanly enough to create a great chance.
When Iwamasa came on after an hour, Japan looked a bit more settled at the back with Konno pushed to left back and Yuto Nagatomo moved up into wide left of midfield. Japan's best chance of normal time came soon after that switch with a great ball from Nagatomo finding Shinji Okazaki with space near goal and a free header. With Mark Schwarzer rooted to the spot, Okazaki's header just missed the far post. Frankly if he'd headed it a metre in from the post it would have gone in as Schwarzer had given it up.
Australia though a golden chance a few minutes later when Harry Kewell found himself clean through with only Kawashima to beat. His shot was saved with Kawashima's feet, but Kewell really should have scored. He found himself through again near the end of normal time, though Kawashima's decisive intervention stopped him from getting onto the ball that time. Scary moments though.
Into extra-time we went, and Japan again either played narrow in attack, or tried to go down the left, leaving the wide open Uchida on the right screaming for the ball but not getting it often.
Chances came aplenty in extra-time, with Brett Emerton guilty of missing a greta one for the Aussies. For Japan, the disappointing Ryoichi Maeda was replaced by Tadanari Lee during the first period, and my note at the time says "Lee looks lively straight away"…
Kewell and Tim Cahill were both replaced for Australia, and Kruse who had come on so nearly won it with an excelletn header destined for the top corner before Kawashima stretched to reach it. Thank goodness he's so tall, is all I can say! Straight up the other end and Keisuke Honda sent a shot just wide…it was all happening now.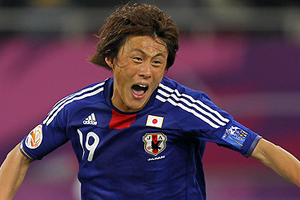 The decisive moment came just after the change of ends, when good play by Yuto Nagatomo on the left was followed by an excelelnt cross finding Tadanari Lee completely unmarked near the penalty spot. He would have had time to bring it down before shooting, but as it was he fired an unstoppable first time volley into the corner with Schwarzer having no chance.
The guilty defender was David Carney who had been close to Lee, but as the cross came in he decided for whatever reason to go to the near post leaving Lee all alone. It's not as though there was anyone else attacking that space – it was merely space. As the commentator on English TV said…"I've never seen space score a goal".
Perhaps he thought Matt McKay had been tracking back behind him, but he hadn't meaning the Lee was all alone for his moment of glory.
The final minutes were tense of course, none more so than the last minute of all which was the moment Shinji Okazaki chose to handle on the edge of the box right in the centre. The additional minute was up, so it was this moment or bust for Australia. Thankfully the shot hit the wall, and the ensuing scramble saw the ball cleared and the final whistle. Phew!
For Tadanari Lee, this was only his second appearance, both from the bench in this tournament, and his first goal for Japan is one he will never forget!
So Japan still have a 100% record in Asian Cup Final matches, with 4 wins out of 4. This makes Japan the most successful nation in Asian Cup history, ahead of Iran and Saudi Arabia on three wins apiece.
Two other significant stats are the Alberto Zaccheroni remains unbeaten as Japan's manager, and that Japan remain Unofficial Champions of the World.
Also Keisuke Honda was named MVP for the tournament, presumably because Japan won and so they simply picked the Japanese player they'd shortlisted out of the four semi-finalists. Eiji Kawashima was man of the match for the Final, and thoroughly well deserved it was too.
His crucial saves kept Japan in it at times, and we simply would not have won without his superb goalkeeping today. Well done that man. He had more saves to make than his Aussie counterpart, but when he was really needed he pulled it off unlike Mark Schwarzer who twice had given up on efforts at goal – one went wide, the other went in, and that was all the difference was.
Possession overall was actually sllightly in Japan's favour, which it certainly wasn't at half-time. Japan progressed as the match went on without ever reaching their best and most fluid, but it was just about enough but it could so easily have gone either way.
Zac's first comments on the vcitory…
"We played the entire tournament with great courage and always sought to impose our game. We have a very young team. The bench players have made a big contribution, just as Lee did today."
This also puts Japan into the next Confederations Cup in 2013 in Brazil which could privde valuable experience against some good teams a year ahead of the World Cup, and in the country where the World Cup will be. A very worthwhile experience for Japan.
Also, has anyone ever seen anything quite like that trophy presentation? It was almost half an hour after the final whistle before they eventually got around to presenting the trophy. How to string it out eh? It was almost one trophy per VIP at one stage!
But the biggest stat of all is of course that Japan are once again Champions of Asia. It's been a far from easy route to victory, which we'll reflect on in due course, but win it we have.
がんばれ日本!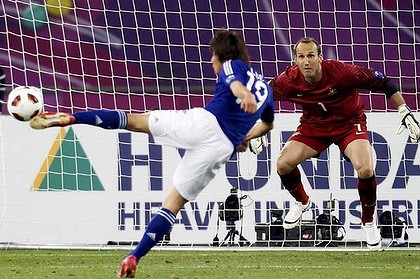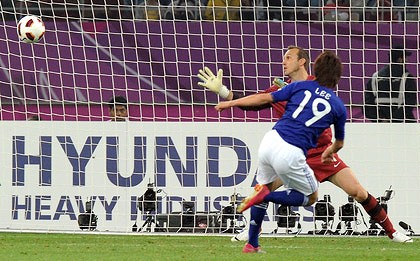 Subscribe

Japan World Cup Team Blog RSS Feed

Share
Comments are closed