Back from the brink – Japan 1 Jordan 1
January 9th, 2011 | by: Aidan |

Comments Off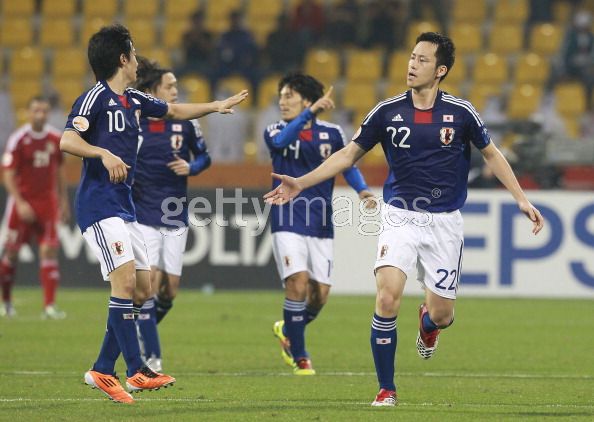 Well that was quite an opening to the tournament for Japan. A 1-1 draw snatched in stoppage time, after the massed ranks of Jordan's defence had held firm for most of the second half.
Maya Yoshida was at the centre of the action in terms of the goals. Jordan scored in the last few moments of the first half when a shot by Hassan Abdel Fattan was destined for the safe arms of Eiji Kawashima, but deflected off Maya Yoshida's attempted block and left Kawashima helpless.
At about the same point of the second half, Yoshida saved the day with a fine header from a Makoto Hasebe cross to beat the previously excellent Jordanian goalkeeper Amer Sabbah.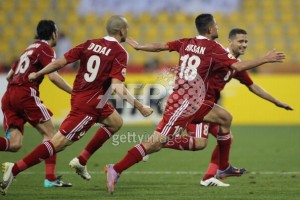 This was the least Japan really deserved after utterly dominating possession, although that dominance was not converted into many real goalscoring chances and at time Japan's approach playe appeared fairly flat and uninspiring, before the late flourish, with several passes going astray. However, Japan could, and perhaps should, even have won it in stoppage time when Tadinari Lee missed his big chance. Shinji Okazaki also had a header after the equaliser but a draw it was and mighty relieved Japan and Alberto Zaccheroni will be.
For all Japan's dominance in possession (70% in the first half, and close to it in the second) it is a worry that so little real threat was caused to Jordan, other than a well saved first half effort and the late flurry of chances. Other than that, Japan had seemed to be trying to play their way through the middle of a solid red wall which was a tactic surely doomed to fail.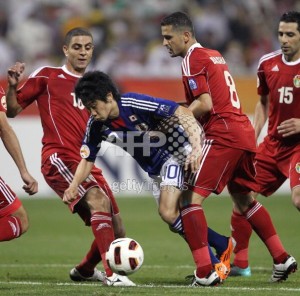 At times the match resembled a training exercise with one team trying to break down an organised defence, as Jordan tried to hang on to their lead.
All the intricate 1-2s and passes in the world are going to struggle against such a tightly packed defence, and even more so when you try to play through the middle of that defence as Japan repeatedly did, for very little reward. It was crying out for width, and that is something that Japan only used regularly enough later in the game when Shinji Okazaki came off the bench.
I was a bit surprised that Okazaki was introduced so late, after Ryoichi Maeda's ineffective first half if a change was to be made I would have thought the more experienced Okazaki might have got the call, but instead Tadanari Lee came on, and proved equally ineffective.
I know I've mentioned this before, but to me it looked a little as though Japan weren't quite at their sharpest. You could see they were the superior players but they lacked the cutting edge to really make that count, and so Jordan took a point and nearly won.
Japan I feel looked like a team who haven't played together for a while, which their oppponents had, and also some of the players haven't seen any competitive action in a few weeks. The Russian League finished a while ago, as did the J-League, which accounts for most of the squad, and some of the Euro boys have been on winter break too.
Shinji Kagawa to me looked a bit off the pace as did Yasuhito Endo and to some extent Keisuke Honda, but we should note that it is always difficult when facing such a packed defence as Japan faced today for much of the game.
However, a face-saving draw was rescued and we move on to the next, still never having beaten Jordan in 90 minutes in three attempts, and with Alberto Zaccheroni a lucky man to still be unbeaten as Japanese coach.
He has four days to sort it out before we face Syria on Wednesday, with Japan needing to find a bit more cutting edge. Syria must really be beaten before we face Saudi Arabia in the final match, but it is the Saudis who will the happiest after this 1-1 draw for Japan.
See the goals here…
(Added later…)
And in the group's other match Syria have just beaten Saudi Arabia 2-1. At the end it resembled Japan's match, with Saudi attacking constantly but unable to break through. They did create one great chance in the last minute with a good header, but the Syrian goalkeeper made a stunning save which has won them the match.
So the group looks like this…
1. Syria Pl.1 Pts 3
=2. Japan Pl.1 Pts 1
=2. Jordan Pl. 1 Pts 1
4. Saudi Arabia Pl.1 Pts 0
So where does this leave Japan?
Syria's win could be seen as both good and bad for Japan. Good because having dropped points ourselves, the main group rivals went out and got zero points. Bad because it now means the match with Syria is almost a must win.
Should Japan draw with Syria then the Syrians will be in a strong position to qualify (though not definitely of course), leaving Japan fighting for the other spot. Should Japan lose, then Syria would be definitely through and we would be in real trouble. If we win we will be in a position of strength, and will definitely go into the match with Saudi Arabia ahead of the Saudis, and therefore only needing a draw to remain ahead of them.
The permutations are endless of course, and we'll just have to wait and see. Ideally Syrau and Saudi Arabia would have drawn too keeping things level, but if Japan can beat Syria then all will look rosy again – a Syrian win was preferable to a Saudi win from Japan's point of view, but it does mean that on Thursday our Syrian opponents will be bursting with confidence.
Subscribe

Japan World Cup Team Blog RSS Feed

Share
Comments are closed