AFC Player of the Year – Yasuhito Endo
November 26th, 2009 | by: Aidan |

View Comments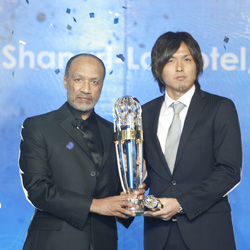 Japanese midfielder Yasuhito Endo was named the AFC Player of the Year earlier this week at a ceremony in Kuala Lumpur. This comes having been named 2008 Japanese footballer of the year.
Endo is a versatile two-way midfielder, as comfortable as a defensive destroyer as he is going forward and being a creative force. More often for the national team he's been playing as a defensive midfielder, but has the skills to produce up the other end of the field too.
He won the award ahead of Bahrain's Sayed Mohamed Adnan and his Japanese midfield partner Kengo Nakamura. The award is given based on the player MVP awards for all AFC tournaments, mainly the AFC Champions League, Asian Cup and World Cup Qualifiers, so it's not exactly an award available to every Asian player, but nonetheless Endo' 6 MVP awards in the internationals he played, and Champions League games with Gamba Osaka show his value to any team he is a part of.
There are of course many Asian players in Europe who aren't eligible for this award, not least a whole load of Australians and one or two Japanese, Koreans and Iranians most notably. The award also doesn't take domestic league action into account, but Endo has proved time and again what a valuable and important player he is for club and country, and this recognition is more than merited. The test for Endo now is to go on and prove his worth on a bigger stage, which he will get in South Africa next summer.
If we were to judge who the best Asian player over the year was, we may get a different result, but Endo would certainly be up there.
Endo commented, "I would like to thank the AFC for this Award. This is a big honour for me. I was here last year but unfortunately, I wasn't able to win. However, I am very happy to win this year. I hope I can be a role model for young players everywhere and give hope to others in Asian football."
In the night's other awards, South Korea were named AFC national team of the year and Korea's Ki Sung-Yeung was named AFC Youth Player of the Year.
Subscribe

Japan World Cup Team Blog RSS Feed

Share
blog comments powered by Disqus